In recognition of his contribution to Geoscience in Australia, Roy Woodall was unanimously elected as the inaugural National Geoscience Champion in 2015.
Roy's scientific approach to exploration, coupled with his use of the latest geological techniques, contributed greatly to many significant ore discoveries in Australia. His catalogue of discoveries include the Kambalda nickel field (1966), uranium at Yeelirrie (1971), the Olympic Dam copper-gold-uranium deposit (1975), the St Ives gold field and the East Spar oil-condensate field (1993), together with a large number of other discoveries.
Roy set high scientific standards, ensuring the recording of scientific data and using the best equipment and analytical facilities available at the time, leaving a significant legacy of scientific methodologies and successes. Roy's standard of training and mentorship of other geoscientists has advanced the capabilities of Australia's mining and exploration industries and the development of our nation.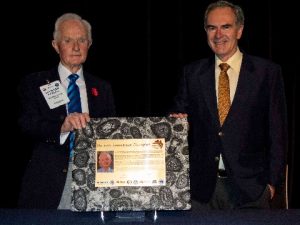 Roy Woodall with AGC President, Bill Shaw, following presentation of a plaque recognising AGC's inaugural National Geoscience Champion. The presentation was made in November 2015 at the International Mining and Resources Conference (IMARC 2015) in Melbourne during the 'AusIMM Explorers' Forum – Challenges and Opportunities', also known as 'The Woodall Symposium'.